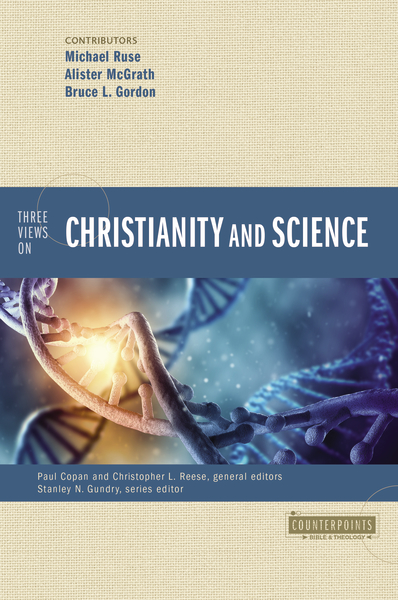 Three Views on Christianity and Science
When it comes to relating Christianity to modern Western culture, perhaps no topic is more controversial than the relationship between Christianity and science.

Outside the church, the myth of a backwards, anti-science Christianity is very common in popular culture and can poison the well before a fruitful dialogue can begin. Within the church, opposing viewpoints on the relation between Christianity and science often lead to division.

Three Views on Christianity and Science addresses both types of conflict. Featuring leading evangelical scholars, this book presents three primary options for the compatibility of Christianity and science and models constructive dialogue on the surrounding controversial issues.

The highlighted contributors and their views are:

- Michael Ruse, representing the Independence View - When functioning correctly, science and Christian theology operate independently of each other, seeking answers to different questions through different means.

- Alister McGrath, representing the Dialogue View - Though the natural sciences and Christian philosophy and theology function differently, they can and should inform each other.

- Bruce L. Gordon, representing the Constrained Integration View - Science, philosophy, and theology all contribute to our understanding of reality. Their interactions constrain each other and together present an optimally coherent and integrated picture of reality.

By engaging with the viewpoints of the contributors, readers will come away with a deeper understanding of the compatibility of science and Christianity, as well as of the positions of those who disagree with them. Scholars, students, pastors, and interested laypeople will be able to make use of this material in research, assignments, sermons and lessons, evangelism, and apologetics.


€ 11,90
Three Views on Christianity and Science
EAN-code:
9780310598541
Aantal pagina's:
224
Bindwijze:
Paperback
Levertijd:
Binnen 1 werkdag in huis!
In winkelwagen