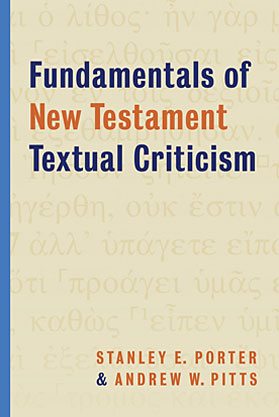 Fundamentals of New Testament Textual Criticism

Fills the need for a truly mid-level, quality textbook on New
Testament textual criticism



Presenting all the essential, foundational elements necessary to grasp
textual criticism of the New Testament, Stanley Porter and Andrew Pitts
accurately define the subject of textual criticism, discuss the canon and
manuscripts of the New Testament, outline methodological principles, and more,
concluding with a chapter on New Testament translations and how to evaluate
them.



Part of a coordinated Greek study curriculum, this volume is designed
to function as a companion to Fundamentals of New Testament Greek and its
accompanying workbook (Eerdmans, 2010); an intermediate grammar of New
Testament Greek is forthcoming.



This very readable textbook provides a helpful and balanced " introduction to text criticism aimed at just the right level for beginning
students. It is clear, introduces multiple views, gives good reasons for the
approaches it favors, and - an unexpected bonus - offers in two relevant
chapters useful, concise introductions to canon formation and translation
theory.
"
Craig S. Keener - Asbury Theological Seminary



Recommended € 21,90


Anderen bekeken ook: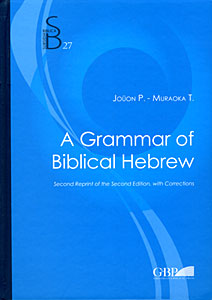 A Grammar of Biblical Hebrew (2011)
Paul Joon - Third Reprint of the Second Edition, with Corrections.
This is the most extensive revision yet of one of the most complete Hebrew
Grammars ...
€ 69,90
verder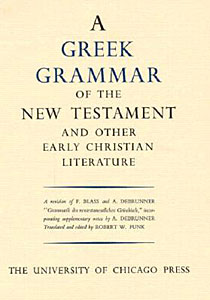 A Greek Grammar of the New Testament
Friedrich Blass -
And Other Early Christian Literature.
This work was created
by Friedrich Blass, professor of classical philology at the University of
Halle-Wittenberg, and was continued after ...
€ 59,90
verder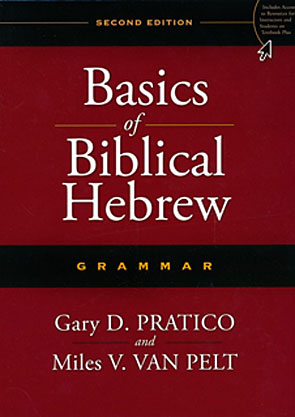 Basics of Biblical Hebrew, Second Edition
Gary D. Pratico -
Grammar.
Basics of Biblical Hebrew, today's best-selling introductory Hebrew grammar,
has just gotten better with additional, linguistically nuanced explanations for
some of ...
€ 39,90
verder
Meer van deze auteur...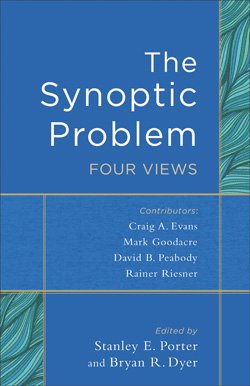 The Synoptic Problem - Four Views
Stanley E. Porter (ed.) -
The relationship between Matthew, Mark, and Luke is one of the most
contested topics in Gospel studies. How do we account ...
€ 17,90
verder