/
/
Bijbels / KJV Windsor Text Vivella Blue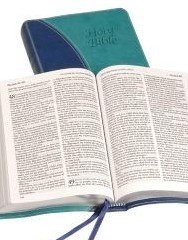 KJV Windsor Text Vivella Blue
Medium-size Bible without
references
in attractive two-tone, stitched, soft, luxury leather-grain finish. Distinctive clear text with good line spacing for
optimum clarity and readability. Blue has silver page edges, brown has gilt.
Size: 14 x 20 cm.

€ 34,90
KJV Windsor Text Vivella Blue
EAN-code:
9781862283343
Aantal pagina's:
1339
Bindwijze:
Gebonden
Levertijd:
Binnen 1 werkdag in huis!
In winkelwagen