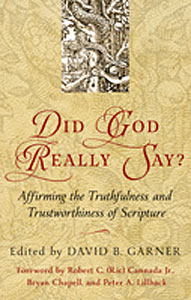 Did God Really Say?
Affirming the Truthfulness and Trustworthiness of Scripture.
Did God really say?" is a fundamental theological question. If God has not " spoken clearly, truly, trustworthily, and in human words, then anything goes:
believe what you will, act as you wishùno one can fault you.
The churchÆs historical belief in the truthfulness and trustworthiness of
Scripture as GodÆs written Word is being assaulted from without and from
within. In this book, seven scholars from Covenant Theological Seminary,
Reformed Theological Seminary, and Westminster Theological Seminary confront
and repel many of these attacks. Reasoning clearly, cogently, and carefully,
they show that the historical doctrine of Scripture is what Scripture teaches
about itself, and that this teaching can meet and defeat the ungodly
intellectual schemes brought against it.
Current discussion about the nature of Scripture circles around a plethora " of topics, each of them painfully complicated. Here a handful of scholars
tackles seven of them -- including the nature and development of the canon, the
place of Warfield, God's relation to language, and the views of N. T. Wright.
With firmness and fairness, not to say remarkable simplicity, these writers
identify the fundamental issues and bring clarity to their joyful
confessionalism. - D.A. Carson"
Recommended € 17,90

€ 14,90
Did God Really Say?
EAN-code:
9781596383999
Aantal pagina's:
207
Bindwijze:
Paperback
Levertijd:
Binnen 1 werkdag in huis!
In winkelwagen