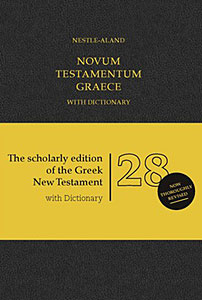 Novum Testamentum Graece (28th ed.) with Dictionary
This standard edition for students, pastors, and translators has been improved:
papyri 117--127 are included for the first time; there are 30 corrections in
the text of the Catholic Epistles; the revised critical apparatus is now easier
to use; and the Greek-English Dictionary of the New Testament by Barclay Newman
has been added. (= 9781619700468)

Anderen bekeken ook: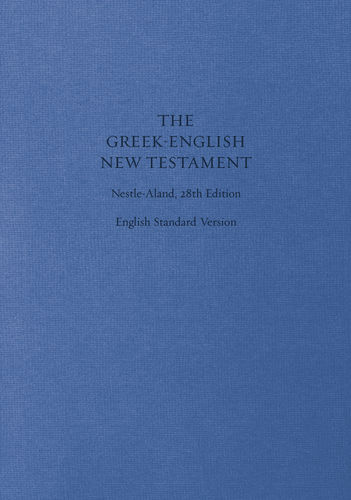 Greek-English New Testament (NA28/ESV)
-
Combining Greek with the English Standard Version text, the
Greek-English New Testament is an essential resource for students, pastors, and
scholars who work with the ...
€ 44,90
verder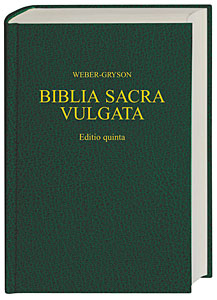 Biblia Sacra Iuxta Vulgata (Editio Quinta)
Robert Weber - Die weltweit bekannte, seit Jahrzehnten bewährte Vulgata-Handausgabe von
Robert Weber und Roger Gryson. Nun in der fünften, verbesserten und
aktualisierten Ausgabe. Dabei wurde vor allem ...
€ 48,00
verder

Using and Enjoying Biblical Greek
Rodney A. Whitacre -
Many who study biblical Greek despair of being able to use it
routinely, but veteran instructor Rodney Whitacre says there is hope! ...
€ 22,90
verder
Meer van deze auteur...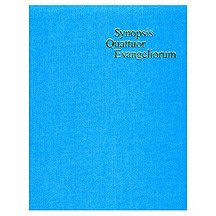 Synopsis Quattuor Evangeliorum
Kurt Aland (ed.) - Locis parallelis evangeliorum apocryphorum et patrum adhibitis. Editio
quindecima revisa (Greek Synopsis).
15th Revised Edition, 4th Printing
utilizing the Nestle-Aland 27th edition ...
€ 59,90
verder
Novum Testamentum Latine 3rd ed.
Kurt Aland (ed.) -
Herausgegeben von Kurt und Barbara Aland, 3., aktualisierte Auflage 2014
Text der Nova Vulgata, Editio typica altera 1986. ...
€ 32,00
verder