/
/
Bijbels / KJV Royal Ruby Text Bible Illustrated 10x14 cm (E3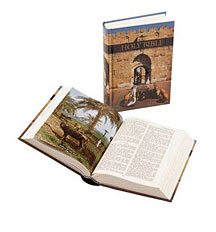 KJV Royal Ruby Text Bible Illustrated 10x14 cm (E3
Small Standard Text Bible with black vinyl board cover, and 16 colour
photographs of scenery and features of Bible times. Quality sewn and bible
paper with decorative head and tail bands; Bible Word List; Biblical Sketch
Illustrations; Daily Bible Reading Scheme. Presented in an attractive colour
dust jacket. (= 0907861385 / 9780907861386)
Translation: King James
Version.
Size: 10 x 14 cm.