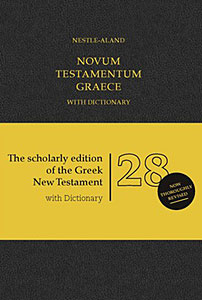 Novum Testamentum Graece (28th ed.) with Dictionary
This standard edition for students, pastors, and translators has been improved:
papyri 117--127 are included for the first time; there are 30 corrections in
the text of the Catholic Epistles; the revised critical apparatus is now easier
to use; and the Greek-English Dictionary of the New Testament by Barclay Newman
has been added. (= 9781619700468)

€ 38,00
Novum Testamentum Graece (28th ed.) with Dictionary
EAN-code:
9783438051608
Aantal pagina's:
1204
Bindwijze:
Gebonden
Levertijd:
Binnen 1 werkdag in huis!
In winkelwagen
Anderen bekeken ook: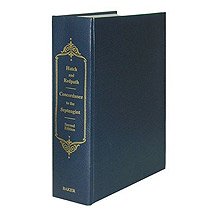 A Concordance to the Septuagint
Edwin Hatch (ed.) -
And the Other Greek Versions of the Old Testament (Including the
Apocryphal Books).
For over one hundred years, this resource has
been an indispensable tool ...
€ 89,90
verder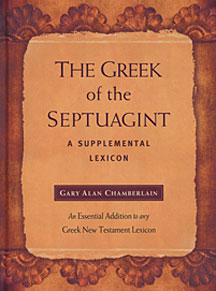 The Greek of the Septuagint
Gary Alan Chamberlain -
A Supplemental Lexicon. An Essential Addition to any Greek New Testament
Lexicon.
For New Testament students and scholars who want to ...
€ 34,90
verder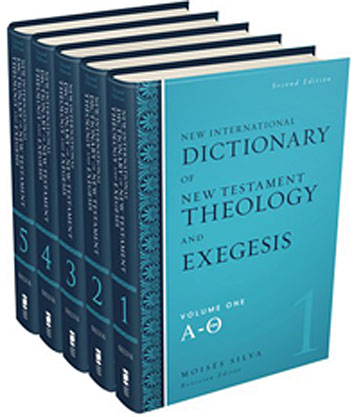 NIDNTTE (new ed.), 5 vols.
Moises Silva (ed.) -
New International Dictionary of New Testament Theology and Exegesis Set
(New).
A standard and widely-used reference work for nearly 40 ...
€ 158,90
verder
Meer van deze auteur...
Novum Testamentum Graece (28th ed.)
Kurt Aland (ed.) - Das weltweit verbreitete Standardwerk unter den griechischen Urtextausgaben des
Neuen Testaments erscheint jetzt in einer grundlegend überarbeiteten und
verbesserten Auflage (28. Aufl.). ...
€ 32,00
verder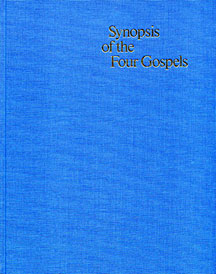 Synopsis of the Four Gospels (Greek & English12th)
Kurt Aland (ed.) -
Greek English Edition of the Synopsis Quattuor
Evangeliorum.
This unique and useful resource includes a parallel
comparison of the four Gospels in both ...
€ 72,00
verder